Connect Universal Dual Headphone and Speaker Bluetooth Audio Transmitter for TV (AF-T1)
Connect Universal Dual Headphone and Speaker Bluetooth Audio Transmitter for TV (AF-T1)
The MEE audio Connect Bluetooth transmitter for TV features digital and analog audio inputs, dual headphone or speaker connectivity, and Qualcomm aptX technology for high-fidelity, low latency audio.
Universal Dual Headphone and Speaker
Bluetooth Audio Transmitter for TV
HD Wireless Sound for Your TV
The MEE audio Connect wireless audio transmitter enables TVs and other devices to stream high-quality digital audio to up to two Bluetooth headphones or speakers, wirelessly. Experience full freedom of movement, listen without bothering those around you, and block out distractions with the Connect and your favorite pair of Bluetooth wireless headphones.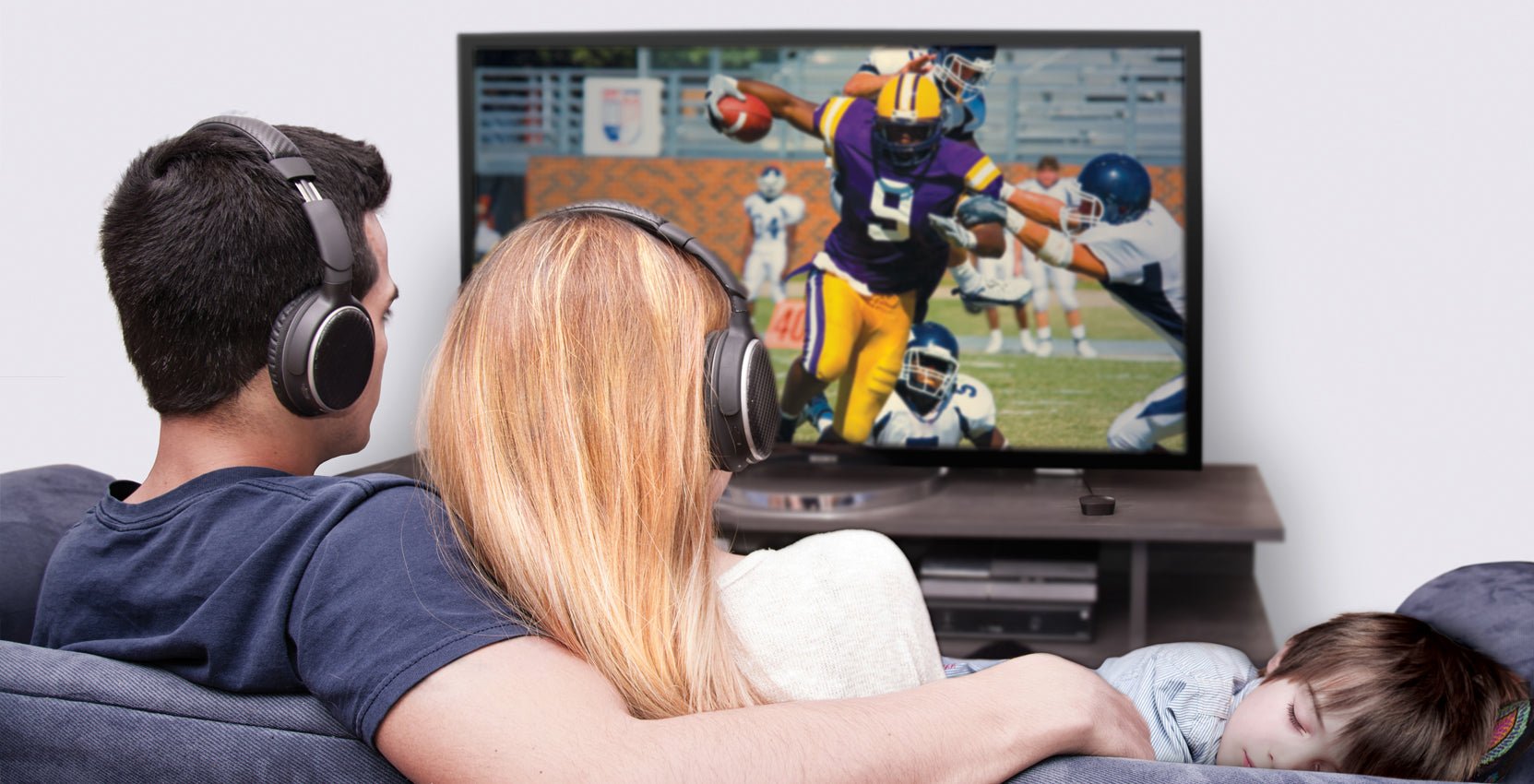 Digital and Analog Connectivity
The Connect offers both analog and digital audio inputs for the widest compatibility with old and new TVs, as well as any other devices with optical (TOSLINK S/PDIF), RCA, or 3.5mm stereo audio output - computers, tablets, digital streaming boxes (including Apple TV and Amazon Fire TV), and more.

Bluetooth Technology
With Bluetooth wireless technology, the Connect transmits clear, distortion-free digital audio to Bluetooth headphones, speakers, and other receivers up to 30 feet away. There is no white noise, no need to "tune" for the right frequency, and no way for a stranger to listen in on your audio stream simply by having similar headphones.
Dual-Headphone Streaming
Stream audio to up to two Bluetooth headphones or speakers simultaneously and adjust volume levels for each independently, allowing users to listen comfortably without bothering each other or those around them.
Hear Your TV Better
Using wireless headphones and speakers with your TV helps you hear dialogue in movies and shows by putting the sound closer to your ears and giving you better control over the volume.

Use with the MEE audio Matrix Cinema headphones for even more hearing assistance functionality.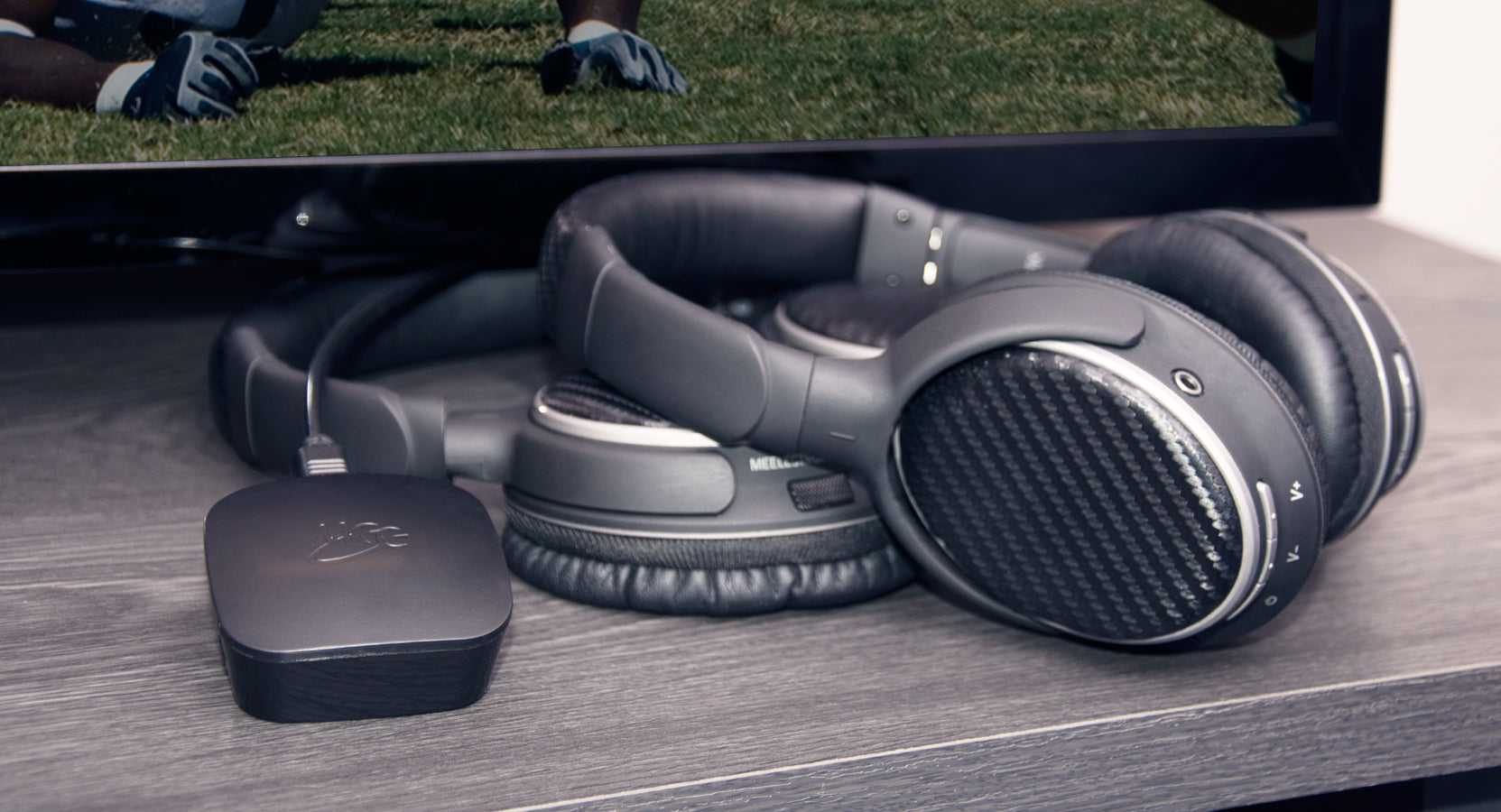 Qualcomm aptX Support for High-Fidelity, Low Latency Audio
The Connect supports Qualcomm® aptX™ and aptX™ Low Latency Bluetooth audio codecs for high-fidelity, low latency audio with aptX-enabled headphones. aptX provides the highest possible wireless audio quality, delivering full-range sound with crystal clarity, while aptX Low Latency also minimizes audio delay and prevents lip-syncing issues.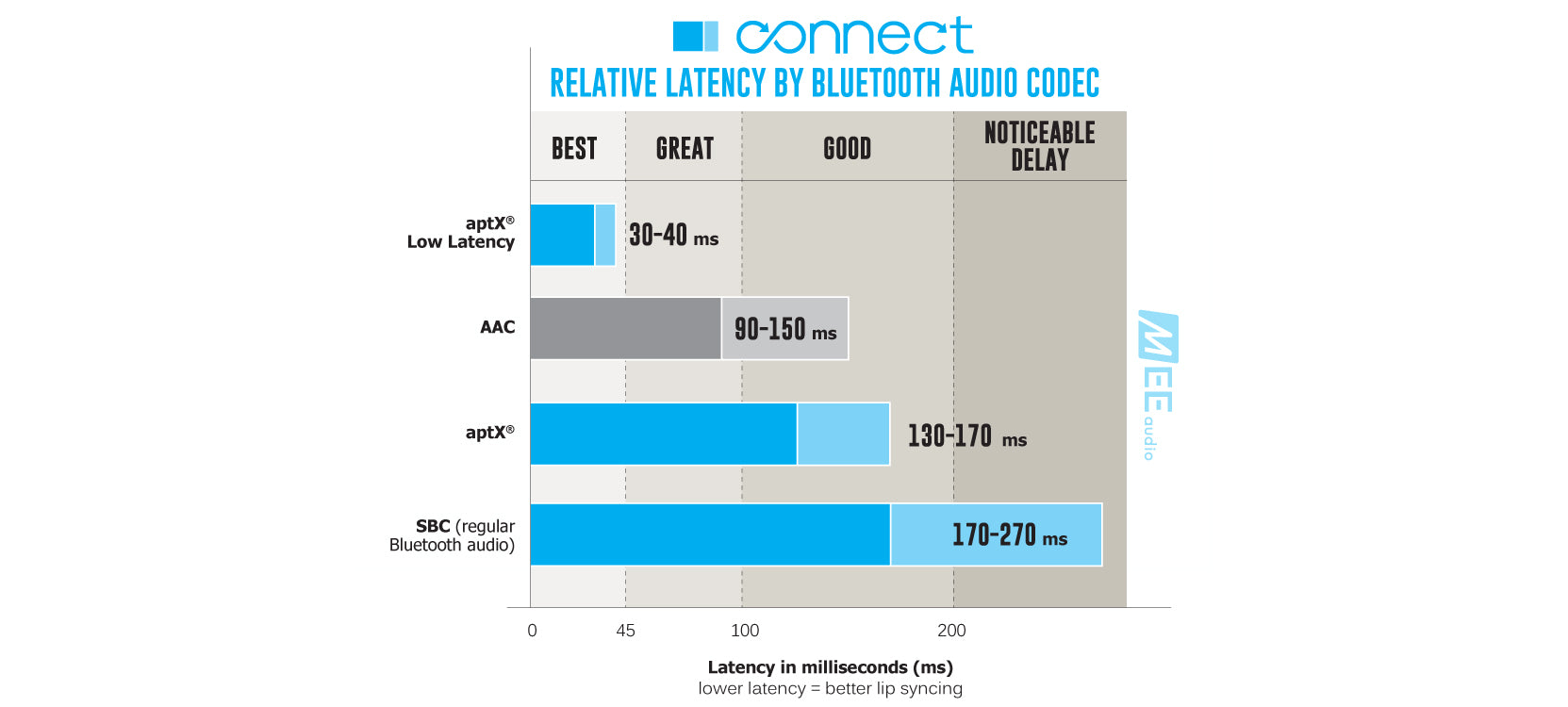 Travel-friendly Design
Its compact form factor and built-in rechargeable battery with up to 12 hours of playback make the Connect the perfect go-anywhere companion for your Bluetooth headphones. Add Bluetooth audio streaming to any device you encounter and share music wirelessly with up to two Bluetooth headphones, speakers, or receivers anywhere, anytime.
What's in the Box
Connect Bluetooth Transmitter,
Micro-USB charging cable,
3.5mm audio cable,
3.5mm to RCA audio cable
Digital optical SPDIF audio cable,
Quickstart guide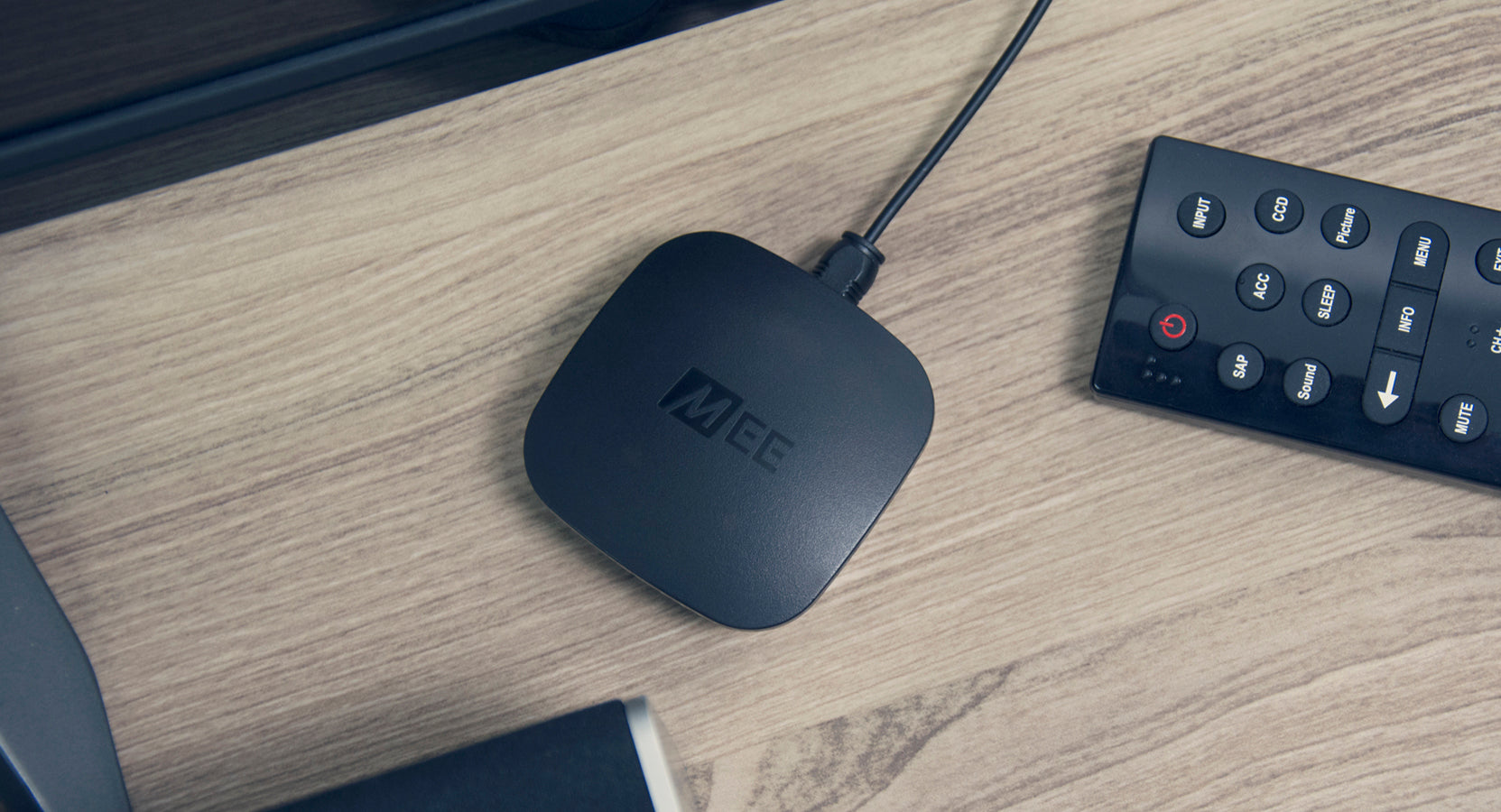 ---
What's in the Box
Connect Bluetooth Transmitter
Micro-USB charging cable
3.5mm audio cable
3.5mm to RCA audio cable
Digital optical SPDIF audio cable
Quickstart guide
---
Bluetooth Specifications
| | |
| --- | --- |
| Bluetooth version | 4.0 |
| Bluetooth profiles supported | A2DP |
| Bluetooth audio codecs supported | SBC, Qualcomm® aptX™, Qualcomm® aptX™ Low Latency |
| operating range | up to 30ft (10m) |
| number of headphones supported | 1 to 2 |
---
Battery Specifications
| | |
| --- | --- |
| battery type | built-in rechargeable battery |
| battery capacity | 200mAh |
| audio playback time (1 headphone) | 12 hours |
| audio playback time (2 headphone) | 9 hours |
| standby time | 44 hours |
| charging time | 1.5 hours |
| charging connector | micro-USB |
---
Product Details
| | |
| --- | --- |
| audio inputs | 3.5mm; optical TOSLINK |
| dimensions | 2.2 x 2.2 x 1 inches (5.5 x 5.5 x 2.5 cm) |
| weight | 1.1oz (31g) |
---
Warranty
The Connect is covered by a 1 year warranty. If you are not satisfied with your product, contact MEE audio to help resolve your issues.
---
Connect Product Manual
For detailed information on troubleshooting, maintenance, and more; please refer to the online Connect user manual.
Choose your version below to view the manual in pdf format. To save it to your computer, right click the link and select "Save Link As...".
---
Connect Support Guide:
MEE audio created the Connect Support Guide page to provide you with easy-to-follow video setup guides, the full user manual, and the latest troubleshooting information.
---
Setup Guide: Getting Started
Watch the video below, which demonstrates how easy it is to set up your Connect to work with your TV.
Write Review
Unexpected Surprise

Posted by Giovanni

Being a technology and audio professional, I'm always skeptical of devices that share a common protocol (i.e., Bluetooth). I already own a Sony WH1000xm5 and used it to connect directly to my Sony Bravia TV in our bedroom. Recently my sister-in-law asked if we could keep it quite in the evenings since her husband goes to bed early. I bought one of these units as well as another Sony WH1000xm5 for my wife. Bluetooth pairing was a breeze (less than 5 minutes) and configuring the audio on my TV was quick as well. There is a link to a YT video that provides step-by-step instructions. I highly recommend this unit.

Brings new functionality to old audio devices

Posted by Andrew

I bought this to connect to the headphone jack on my receiver so that I can listen to music through my Bluetooth headphones.

This device does exactly that - lets you to listen to music from your cassette player, turntable, CD player, whatever.

You can connect it to any Bluetooth headphones, earbuds, or speakers. It pairs pretty easily and the range covers the entire room. Sound quality is good from the receiver, maybe won't be as good if you plug directly into a CD player or turntable.

This device comes with instructions and all of the cables, though if you have an older receiver like mine you may need to find a quarter inch adapter to use the headphone jack on the front.

Overall a solid device that sounds great and works reliably for sending audio from old devices to new headphones.



Mr and Mrs Peace and Quiet

Posted by Valerie

I think this device may have saved my marriage - ever since I got these for my husband, TV time has been a much quieter affair (both literally and figuratively). He can happily use his favorite Bose headphones and I can happily enjoy the TV at a volume that doesn't make my ears ring for 2 hours every night.

Had to call the company for assistance to connect the device to our home theater, but she was patient and helpful, and we got things going in about 10 minutes.

Highly recommended!

Love this device

Posted by MarfaRiva

Perfect for the old TV in our RV, instead of listening to the kids' movies played through the sound system, we can now stream it directly to their Bluetooth headphones. One star off because my husband lost some (more) hair while setting the thing up, but in the end it works as advertised.

Helps her get more sleep

Posted by Thomas

Simple setup. I only needed to connect the 3.5mm jack, which resembles a standard headphone jack, to the audio out on my television. That allowed the sound to go directly to my Bluetooth headphones while muting the television. Now I can watch TV in the morning without waking up my wife. Happy wire = happy life.

Lovely device

Posted by ZoMo

This device is a lifesaver - I had a pair of old Sennheiser TV headphones, and plugging those in would always mute the TV. Well, that's good for me but bad for anyone else in the room who might want to listen to the TV using its speakers. But with this device - I can have the speakers and my Bluetooth headphones on at the same time! Jackpot!

SMALL AND GOOD!

Posted by AB

No one writes about it, but with this device you can wirelessly connect the amplifier to your TV, in my case Yamaha R-N602 with the tv's SONY 49XE9005. The sound is clearer and better than through the normal bluetooth from tv that has visible delays and in every 2-3 seconds it breaks for a while. MEE AC gives the difference almost imperceptible. Unfortunately, this solution is due to the need to hide all cables. The quality thru cable is obviously better. Unfortunately I get the feeling that even the best quality content is underlined by the low bandwidth, which is good in some way, especially in movies gives you more powerful effects.
To connect this set of devices, you need to disconnect other devices from bluetooth (even turn off the tv's bt) so that the amplifier detects only MEE.
Personally, I am very happy with MEE. Unfortunately I did not have the opportunity to use wireless headphones and rather there will be no occasion. For me, the cable is a cable.

Does the job

Posted by JM JR

Great little device, works for hooking up my JVC Marshmallow wireless headphones to my cable box. Jim, North Carolina.

MEE audio Connect Bluetooth Audio Transmitter

Posted by Michael Farrell

MEE audio Connect is the perfect little gadget. A must have if you are in the need of streaming audio to 2 devices. Sound quality is great and the delay is unnoticeable. Works exactly as promised! Thank you!

Needs charging for TV

Posted by powerless

Excellent sound quality. No delay from the TV so the lips sync with the voice at 20 ft. The only problem is that the unit does not come with any source of external power except usb, which my TV does not have. The unit seems to lose power after a day, which means it constantly has to be charged. I therefore have to return it. If they had external power line it would be the best!

Awesome!

Posted by Al

I wish a had another pair of thumbs so I can give this product a four thumbs up!, searched the net for ages until I found this product which worked exactly like advertised!
Cheers


Even works with earbuds!

Posted by Beau

I wanted this device for use with earbuds when I watch TV, so my Darlin' doesn't have to get blasted out. I wanted earbuds rather than headphones and wasn't sure how bad the latency was going to be. Initially, it seemed like quite a bit, however my TV has a 'lip synch' setting, and now the delay is not perceptible to me at all. Excellent product, easy to pair with wireless 'buds and it comes with all the connectors necessary. I suggest you purchase a wall plug USB charger, if you're like me and don't have your computer on all the time.