MEE audio Stream S1 Universal Dual Headphone and Speaker Bluetooth Wireless Audio Transmitter/Streamer with aptX Low Latency technology for TVs and other devices
MEE audio Stream S1 Universal Dual Headphone and Speaker Bluetooth Wireless Audio Transmitter/Streamer with aptX Low Latency technology for TVs and other devices
The MEE audio Dual Stream S1 Bluetooth 4.0 transmitter for TV features digital and analog audio inputs, dual headphone or speaker Dual Stream S1ivity, and aptX technology for high-fidelity, low latency audio.
Dual Stream
Universal Dual Headphone and Speaker Bluetooth Audio Transmitter for TV
HD Wireless Sound for Your TV
The MEE audio Dual Stream wireless audio transmitter enables TVs and other devices to stream high-quality digital audio to up to two Bluetooth headphones or speakers, wirelessly. Experience full freedom of movement, listen without bothering those around you, and block out distractions with the Dual Stream and your favorite pair of Bluetooth wireless headphones.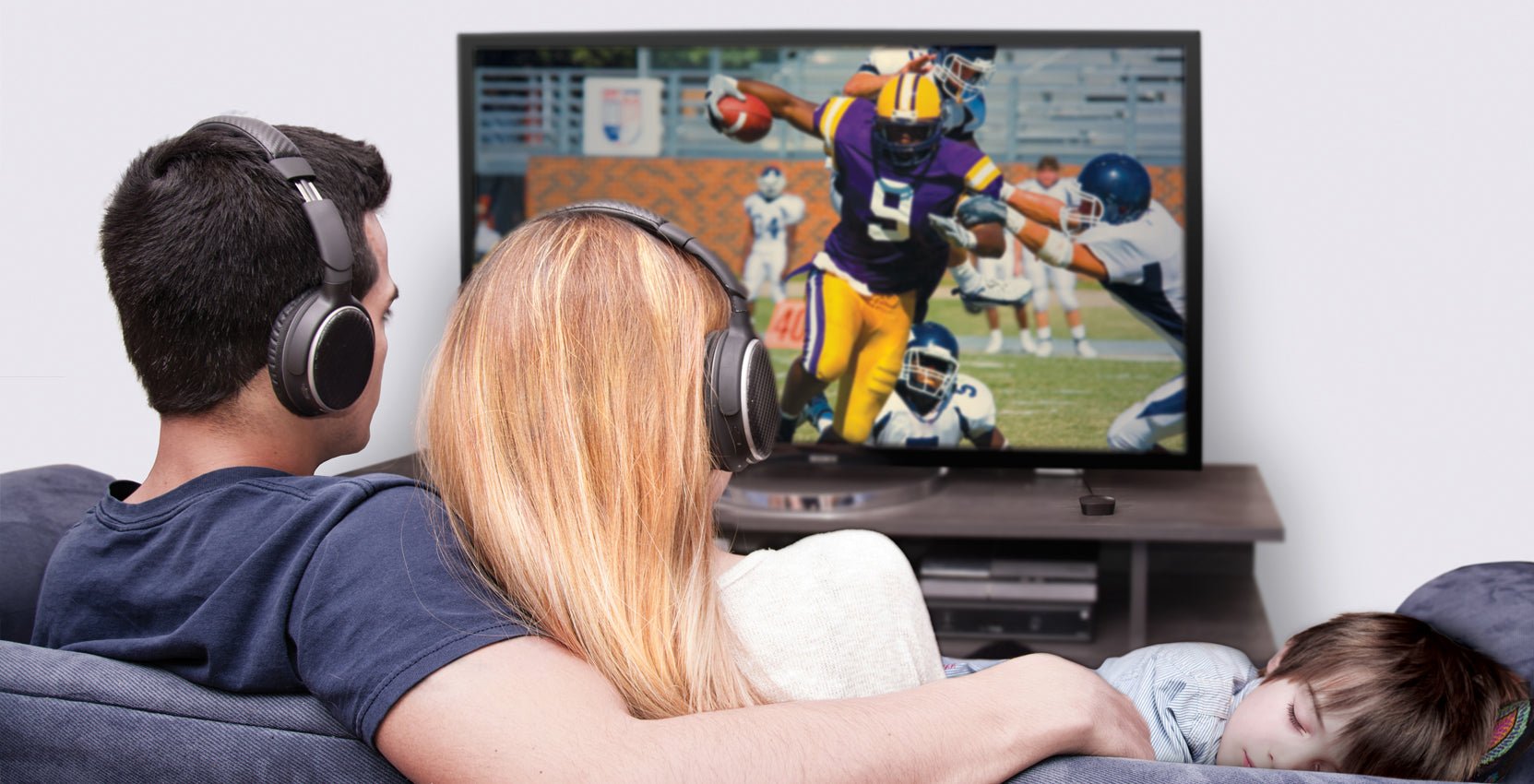 Digital and Analog Connectivity
The Dual Stream offers both analog and digital audio inputs for the widest compatibility with old and new TVs, as well as any other devices with optical (TOSLINK S/PDIF), RCA, or 3.5mm stereo audio output - computers, tablets, digital streaming boxes (including Apple TV and Amazon Fire TV), and more.

Bluetooth Technology
With Bluetooth wireless technology, the Dual Stream transmits clear, distortion-free digital audio to Bluetooth headphones, speakers, and other receivers up to 30 feet away. There is no white noise, no need to "tune" for the right frequency, and no way for a stranger to listen in on your audio stream simply by having similar headphones.
Dual-Headphone Streaming
Stream audio to up to two Bluetooth headphones or speakers simultaneously and adjust volume levels for each independently, allowing users to listen comfortably without bothering each other or those around them.
Hear Your TV Better
Using wireless headphones and speakers with your TV helps you hear dialogue in movies and shows by putting the sound closer to your ears and giving you better control over the volume.

Use with the MEE audio Matrix Cinema headphones for even more hearing assistance functionality.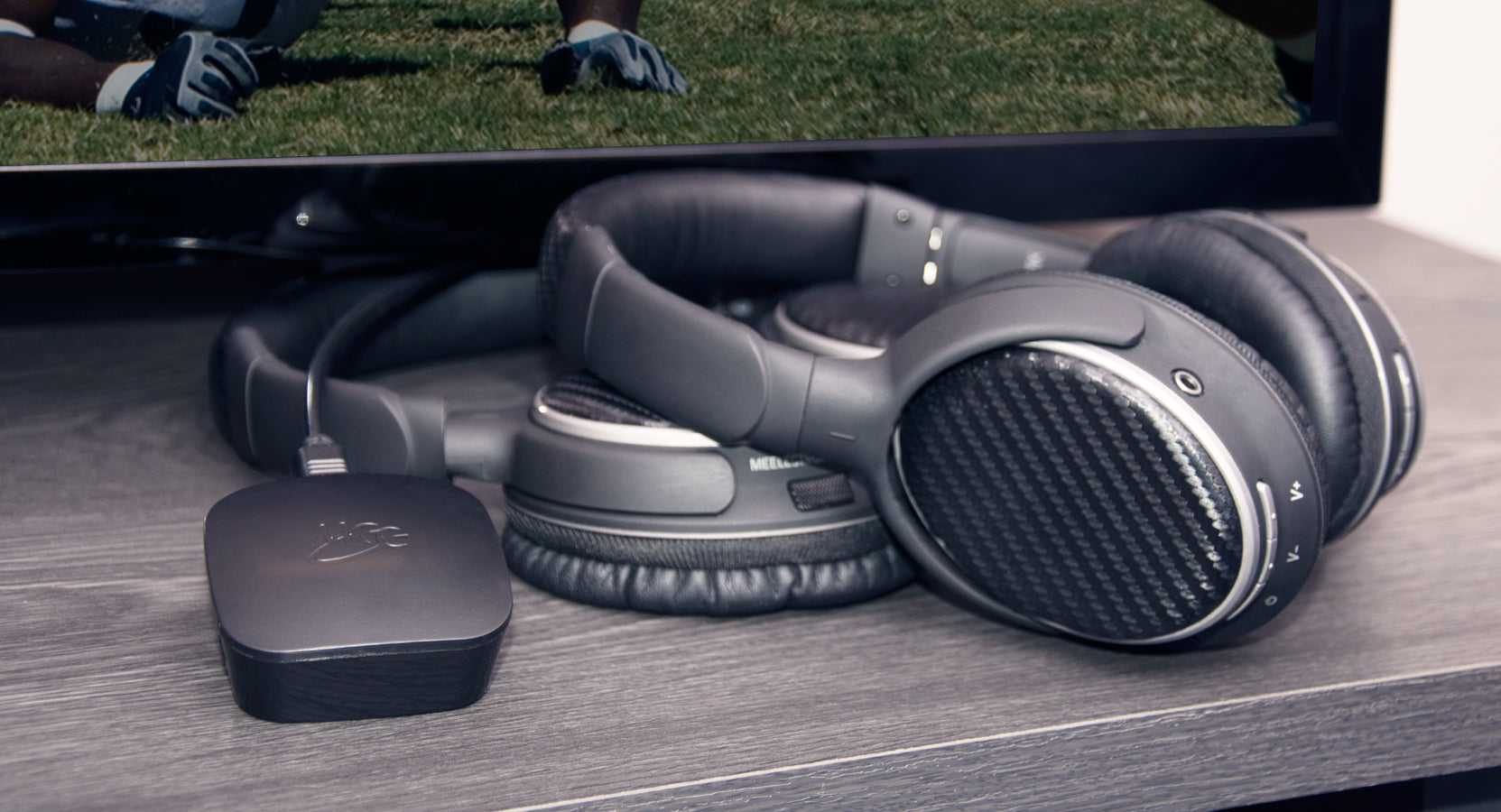 Qualcomm aptX Support for High-Fidelity, Low Latency Audio
The Dual Stream supports Qualcomm® aptX™ and aptX™ Low Latency Bluetooth audio codecs for high-fidelity, low latency audio with aptX-enabled headphones. aptX provides the highest possible wireless audio quality, delivering full-range sound with crystal clarity, while aptX Low Latency also minimizes audio delay and prevents lip-syncing issues.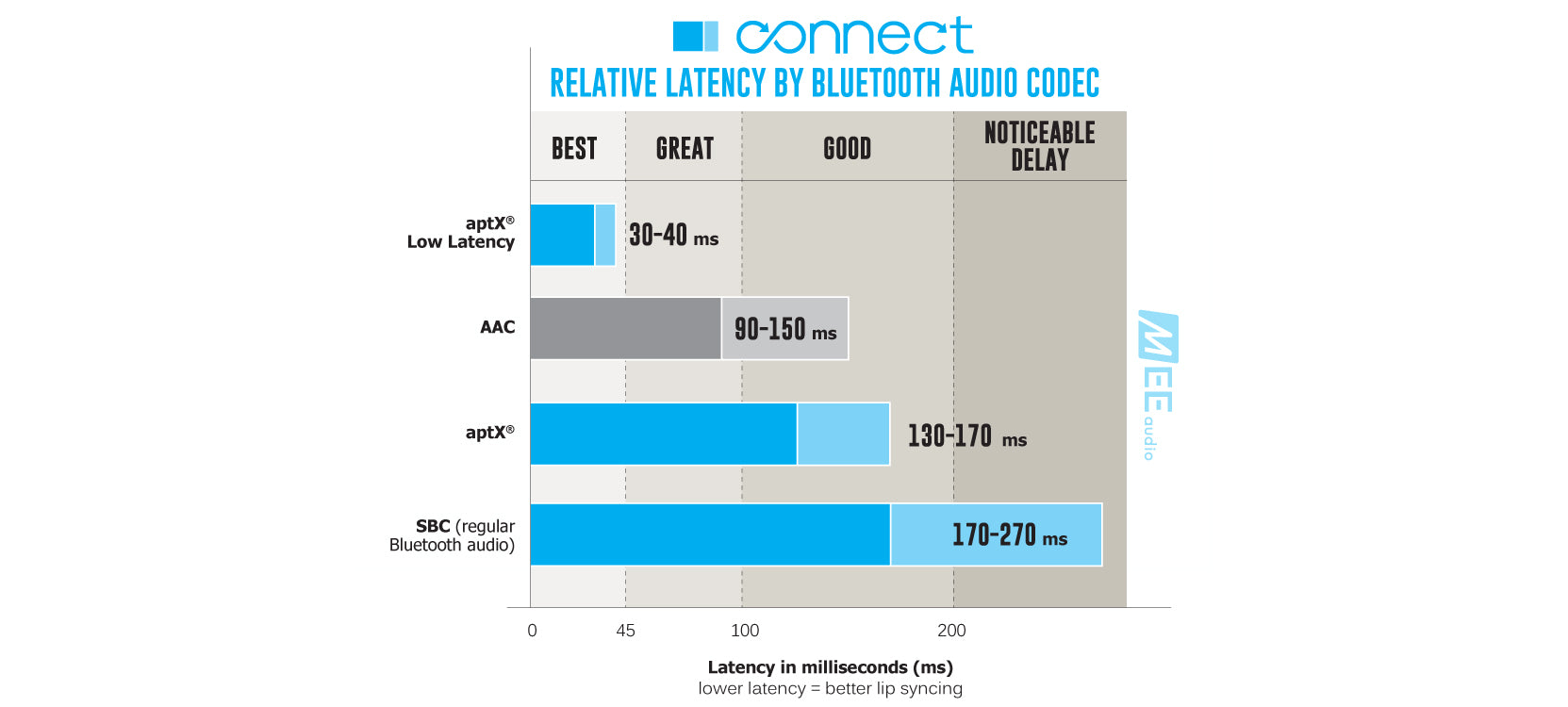 Travel-friendly Design
Its compact form factor and built-in rechargeable battery with up to 12 hours of playback make the Dual Stream the perfect go-anywhere companion for your Bluetooth headphones. Add Bluetooth audio streaming to any device you encounter and share music wirelessly with up to two Bluetooth headphones, speakers, or receivers anywhere, anytime.
What's in the Box
Dual Stream Bluetooth Transmitter,
Micro-USB charging cable,
3.5mm audio cable,
3.5mm to RCA audio cable
Digital optical SPDIF audio cable,
Quickstart guide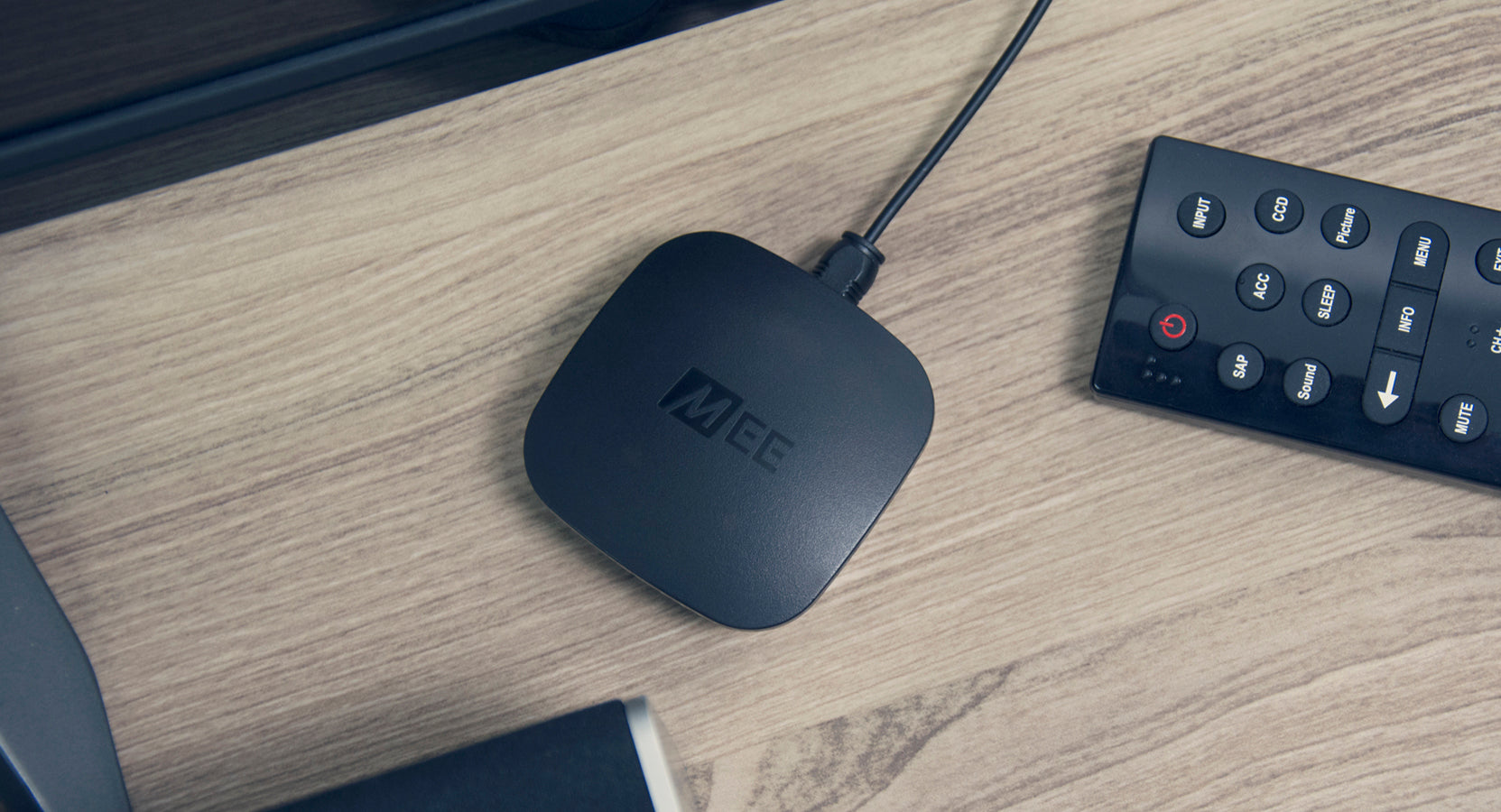 What's in the Box
Dual Stream Bluetooth Transmitter
Micro-USB charging cable
3.5mm audio cable
3.5mm to RCA audio cable
Digital optical SPDIF audio cable
Quickstart guide
---
Bluetooth Specifications
| | |
| --- | --- |
| Bluetooth version | 4.0 |
| Bluetooth profiles supported | A2DP |
| Bluetooth audio codecs supported | SBC, Qualcomm® aptX™, Qualcomm® aptX™ Low Latency |
| operating range | up to 30ft (10m) |
| number of headphones supported | 1 to 2 |
---
Battery Specifications
| | |
| --- | --- |
| battery type | built-in rechargeable battery |
| battery capacity | 200mAh |
| audio playback time (1 headphone) | 12 hours |
| audio playback time (2 headphone) | 9 hours |
| standby time | 44 hours |
| charging time | 1.5 hours |
| charging connector | micro-USB |
---
Product Details
| | |
| --- | --- |
| audio inputs | 3.5mm; optical TOSLINK |
| dimensions | 2.2 x 2.2 x 1 inches (5.5 x 5.5 x 2.5 cm) |
| weight | 1.1oz (31g) |
---
Warranty
The Dual Stream is covered by a 1 year warranty. If you are not satisfied with your product, contact MEE audio to help resolve your issues.
Dual Stream Product Manual
For detailed information on troubleshooting, maintenance, and more; please refer to the online Dual Stream user manual.
Choose your version below to view the manual in pdf format. To save it to your computer, right click the link and select "Save Link As...".
---
Dual Stream Support Guide:
MEE audio created the Dual Stream Support Guide page to provide you with easy-to-follow video setup guides, the full user manual, and the latest troubleshooting information.
---
Setup Guide: Getting Started
Watch the video below, which demonstrates how easy it is to set up your Dual Stream to work with your TV.
Write Review
Worth the money

Posted by Michelle

We have two, one in the living room and one in the bedroom for my husband. He is very hard of hearing, with these he can hear TV at all times. His favorite headphones to use with these are Bose Quietcomforts , although we've now bought a second pair of cheaper ones so he doesn't have to disconnect his Bose from the living room TV.

Christmas Miracle

Posted by Ella G

We unboxed this little device this morning and are using it with our favorite BOSE headphones... the headphones work perfectly when I want to watch tv and not disturb anybody. It's sounds clear and crisp. The device itself is very sturdy and overall we are very impressed with it!

If there's any downsides, it's that I don't believe we would have been able to set it up on our own... luckily our son in law was able to decipher the user manual. Wish it was printed in a larger font! Thank you!

Great little device

Posted by Mr. Smith

I bought this transmitter for my Hisense TV, which doesn't have Bluetooth. The battery life, simplicity of use, and sound quality are all excellent.

At first the audio delay was pretty terrible. Turns out, the issue was my headphones. I just needed better headphones that has lower latency.

SUPER!!!

Posted by Bethany S

Excellent item, I wholeheartedly recommend it.

When you open the package, you will see the transmitter and cables, basically everything you need to get going... as long as your tv has a usb port to charge the device. I actually was confused about this part and had to call the company to explain it to me. They were kind enough to walk me through the rest of the setup process too so I cannot give any feedback on how well I would have done without such assistance.

The transmitter itself is much smaller than I expected and you can connect it via the 3.5mm cable to basically anything you want... CD player, mp3 player, analog audio output of your TV, etc. Then you can pair it via bluetooth to your headphones or speakers. Perfect for those nights where you want to enjoy your show without making noise in your house.

Clarity is excellent, I did not hear any difference in the transmitter content.

In my opinion an excellent product that by its nature may be a little difficult to set up initially.

Transmitter

Posted by Alyson H

Works well. Haven't had any issues so far and the has good range.

I recommend it to anyone

Posted by Evgenii

Excellent once I got it to pair to my devices. Initial set up was more difficult than expected because for some reason I couldn't get it to pair. Not sure if the reason had to do with the device or my headphones, but I called customer service and we were able to get connected right away.

ON-POINT - 1 ISSUE

Posted by GEOFF TAYLOR

Once connected, this gadget works GREAT, however the drawback is that there is NO DISPLAY on which to choose a device to connect to. Any home will have a lot of BLUETOOTH gadgets that are in use and making it choose the gadget I want WIHOUT A DISPLAY is quite difficult. For example, it sometimes decides to pair with the SOUNDBAR in my living room rather than the BLUETOOTH headset I'm holding in my hand 2 feet away. It can be difficult to work around this and it may require some time and effort. The secret is to disable BLUETOOTH discovery ON ALL TVS AND OTHER DEVICES. After that, put the gadget you wish to connect to—say, a BLUETOOTH headset—into pairing mode. THEN AND ONLY THEN should you turn on the transmitter and if it doesn't connect after 10 seconds turn off the HEADPHONES and TRANSMITTER and TRY AGAIN.

Got it set up after some fumbling

Posted by Lion

I bought this transmitter to use with an old CD player and an Amazon Echo speaker. I struggled to get it to connect to any of my Amazon devices (Dot, Plus, Echo) but was able to connect it to another Bluetooth speaker quite quickly, so I don't think it's this device's fault. I eventually succeeded in getting it to connect to an Echo Dot after much fumbling and turning off Bluetooth on all other devices in my entire house. The sound quality is good once connected, but if I had to do it again I would stick to conventional Bluetooth speakers.

Better than Avantree

Posted by AS

My Avantree wireless TV transmitter failed just beyond a year. This unit at half the price and was easier to set up, has greater range and stability, and sounds just as good. Highly recommended.

4.5 Stars for a Fact

Posted by DEREK C.

I bought this with my first wireless earphone and I am quiet impressed. It enables me to watch TV with bluetooth headphones with brilliant sound. 5 stars on design!!!
But I have one thing against it... The volume and bass is just too low for a loud music lover like myself. I feel like I am being forced to listen at a safe volume... I believe everyone would prefer to have a say in how loud they have to listen to their music. Hope the next wireless transmitter will have the ability to increase volume.