MX PRO in-ear monitors feature a fully modular design where all parts, customizations, and accessories can be changed or upgraded independently of one another, blurring the line between universal and custom in-ears.
---
The MX PRO can be purchased as a made-to-order item on the standalone MEE Professional website by clicking the Customize button above.
Note: meeaudio.com accounts do not carry over to the new website, so you will need to create a new account during checkout when using it for the first time. You can also register here.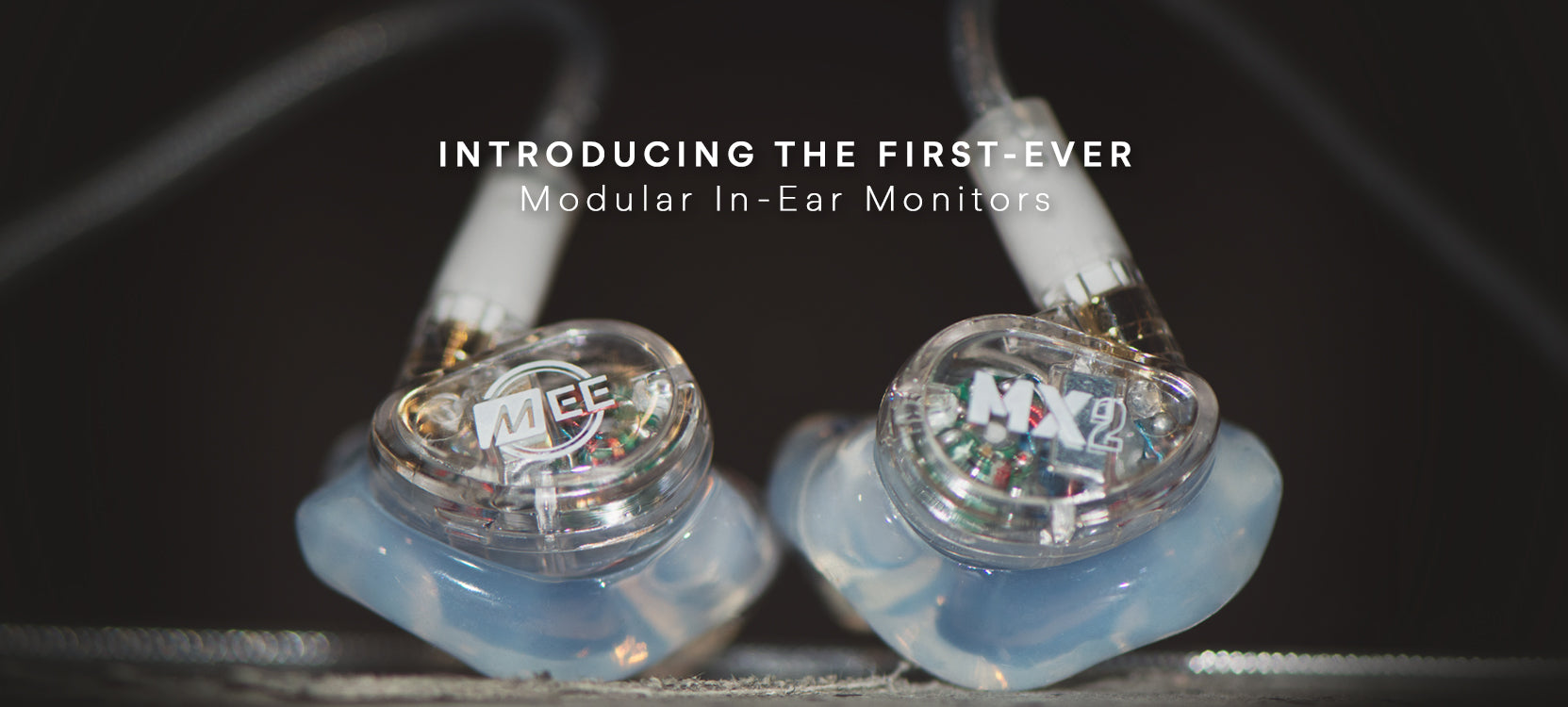 MX PRO Modular In-Ear Monitors
MX PRO in-ear monitors blur the line between universal and custom in-ears with a patent-pending fully modular design that allows all parts, customizations, and accessories to be changed or upgraded independently. Learn more about our modular system below.
Step 1. Select MX PRO Model and Color
Choose one of four available driver configurations.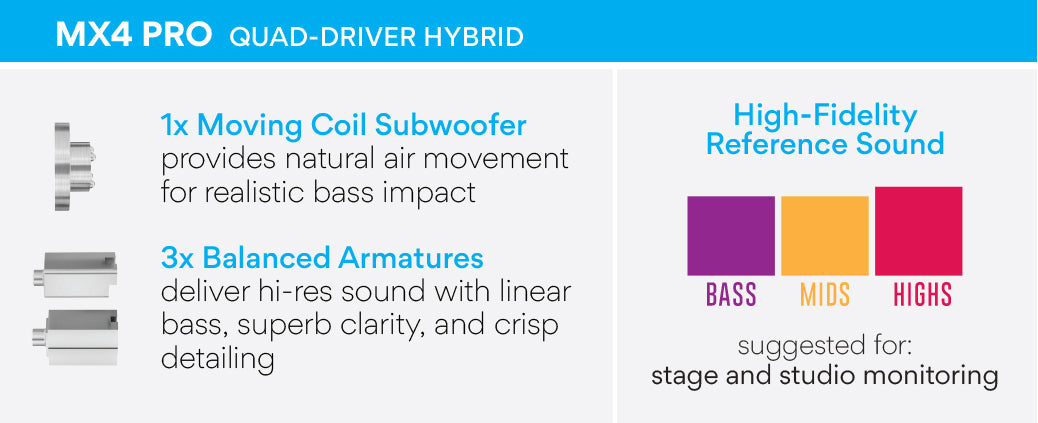 Step 2. Customize with Faceplates, Eartips and Accessories
Personalize your monitors with engraved metal faceplates and take your fit and comfort to the next level with our 3D-printed custom eartips.
Designed for the stage, built for the road
Engineered for real-world reliability, the MX PRO monitors feature a sweat-resistant design and detachable, replaceable cables. A spare cable with headset functionality is included.
Superior fit & comfort
Designed for extended listening sessions, the MX PRO monitors utilize flexible over-the-ear memory wire, providing a secure fit for all ears and eliminating the need to re-adjust your earphones.
Sound-isolating design
The sealed in-ear design and included Comply™ T-Series memory foam eartips reduce outside noise, enabling safer listening volumes. For even more comfort and noise isolation, upgrade to our custom-fit 3D-printed eartips.
Headset cable with mic & remote
The included headset cable features a built-in microphone and remote, letting you seamlessly take calls and control media playback with phones and tablets.
Lifetime replacement
Things don't always go according to plan the real world. If your headphones get crushed, shredded, fried, or simply left behind at a venue we've got you covered. Just tell us what happened and we'll give you a new pair at half price, no questions asked. Visit pro.meeaudio.com/LRP for more information.
What's in the box
MX PRO In-Ear Monitors,
Stereo audio cable,
Stereo headset cable,
Carrying case with carabiner,
Comply™ memory foam eartips,
Silicone eartips (4 pairs),
Shirt clips (2 pairs),
¼" (6.3mm) adapter,
User Manual
---
Speaker Specifications
driver type
MX1 PRO: 10 mm moving coil
MX2 PRO: balanced armature + moving coil hybrid
MX3 PRO: dual balanced armature + moving coil hybrid
MX4 PRO: triple balanced armature + moving coil hybrid
frequency response

20 Hz to 20 kHz

impedance
MX1 PRO: 18 Ω @ 1 kHz
MX2 PRO: 34 Ω @ 1 kHz
MX3 PRO: 21 Ω @ 1 kHz
MX4 PRO: 12 Ω @ 1 kHz
sensitivity
MX1 PRO: 100±3 dB (1 mW @ 1 kHz)
MX2 PRO: 104±3 dB (1 mW @ 1 kHz)
MX3 PRO: 110±3 dB (1 mW @ 1 kHz)
MX4 PRO: 103±3 dB (1 mW @ 1 kHz)
maximum input power

30mW
---
Microphone Specifications
| | |
| --- | --- |
| directivity | omnidirectional |
| frequency response | 100 Hz to 10 kHz |
| sensitivity | -42dB± 3dB |
---
Product Details
| | |
| --- | --- |
| ear coupling | intraaural (in-ear) |
| water resistance rating | IPX5 |
| cable length | 51 inches (1.3m), DC detachable |
| cable connector | 3.5mm, right angle plug |
| included accessories | stereo audio cable, stereo headset cable, protective carrying case, Comply memory foam eartips, silicone eartips (4 pairs), shirt clips (2), ¼" adapter, user manual |
---
Warranty
This product is covered by a 1 year warranty. If you are not satisfied with your product, contact MEE audio to help resolve your issues.
---
MX PRO Product Manual
For information on troubleshooting, pairing, connecting, maintenance, and more please refer to the MX PRO user manual.

To view the manual in pdf format click here.
To save it to your computer, right click the link and select "Save Link As...".
MX PRO Introduction Guide: Getting Started
Watch the video below, which demonstrates how the MX PRO's modular system works.
---
Warranty
This product is covered by a 1 year warranty. If you are not satisfied with your product, contact MEE audio to help resolve your issues.
Write Review
Better sound and fit than M6 PRO

Posted by Space

I got the MX1 PRO because my M6 PROs finally gave up the ghost. The MEE agent on chat told me they use the same driver and will sound the same, but so far I don't think that's try - I am definitely hearing more bass out of the MX1. It also fits more deep and snug in my ear. The cables from my old M6 PRO fit, too, so now I have a bunch of spare cables and other bits!

Comes with a jack for your amp

Posted by JAMES

Good overall, just wish the cord was longer. They come with a quarter inch jack so you can plug 'em direclty into your amp

Rare breed

Posted by Israel Ramírez

I don't usually give endorsements for gear but considering the price, these MX2-PROS are brilliant! Everything about them, from the sound to the comfort to the MASSIVE amount of extras, has quality written all over it. They even come with an extra cable and a nice hardshell case - I've seen $200 monitors that don't come with either. Highly recommend these!

Nice monitors

Posted by Nathan P

I am using it to monitor the band at Church including drums, keys, and vocals. Does a good job at balancing so nothing is too hot coming in. Good noise isolation, great fit. Works perfectly for my needs that I even had it customized to get our logo on there!

Shure SE215 vs Mee Audio MX1

Posted by V

Having used both of these earphones, I think they are both great. I tried to break it down point by point below in a way that will hopefully help others make the decision without trying both, but if you have a chance to try them both then you absolutely should! Everyone has at least one bandmate with an SE215!


Bass: tie - the SE215 has deeper bass but the bass is a little bloated. Having tried a friend's SE535, I can say for shure (Hah!) that this is not a problem with the higher end model, maybe just a limitation of only having one driver. The MX1 lacks presence below 100Hz in comparison, but the bass is also clearer. Just down to preference here.
Mids: SE215 - definitely stronger and richer mids on the SE215, to the point where sometimes I feel the frequency balance is off. But for both live monitoring and general music listening, the mids sound better on the SE215.
Treble: MX1 - the story here is the opposite of the bass - the SE215 has a more subdued treble that seems to run out of steam earlier.
Overall: MX1 - while I like the mids of the SE215, I feel the overall balance across the frequency spectrum is better on the MX1. I assume Shure pursued this sort of sound on purpose, making the SE215 more bass-heavy to appeal to "normal consumers" who may be more prone to buy the entry-level model, and also saving more balanced sound profiles for the more expensive and musician-focused SE models (which are, by the way, fantastic and absolutely worth splurging for).

Comfort: tie - both have a similar design, the SE215 is fits better with the included foam fittings for me while the MX1 wins once customised. Having looked into getting 3rd party custom eartips made for my SE215, and then actually gone ahead with having them made for the MX1, I can say the latter is much more affordable and straightforward
Noise isolation: tie - the Shure foam tips are superior because they go deeper in the ear, and last longer as well. However, you can get custom sleeves made for the MX1 which are even better. So if you don't intend to get custom sleeves, the SE215 is better, but otherwise it's a tie.

Value: MX1 - while the sound, comfort, etc may all be called a tie depending on your ears and preference, the value is hard to argue with. Not only are they cheaper to buy, they come with a spare cable AND additional replacement cables are much cheaper. Definitely a money saver in the long term.


Blurred Lines indeed!!!

Posted by Farrel Hutchonson

I've been unsung the MX2 pro from its release date and I couldn't be more satisfied. Coming from the shure 215 these offer more bass and clarity at a faction of the cost. The headphones also snap together by magnets which is pretty cool. I've also order the custom mold and plan on upgrading in the future the the MX4s. You can't beat value like that!!! Also, Meeaudio customer service have also been 5 Stars.

MX2 Pro

Posted by Dan

I purchased these units after demoing them at the CES 2019 show. I compared them to a $300 pair of Westone units and these have much better low frequency response and are very comfortable to wear. I have only listened to them for a short time however, I will update my review after some more time has passed.