M6 VR In-Ear Gaming Headphones for VR Headsets & Other Devices
M6 VR In-Ear Gaming Headphones for VR Headsets & Other Devices
Designed for Oculus Quest 1 / 2 and other VR headsets
Also includes interchangeable cable with built-in microphone for Nintendo Switch, Xbox One, Xbox Series X|S, PlayStation 5, PS4 Pro and PS4, PC, and Mobile Gaming
See below for additional compatibility information
Get in the Game
Multiplatform In-Ear Gaming Headphones deliver high-fidelity audio while maintaining maximum comfort and convenience when used with the Oculus Quest™ 2 and other VR headsets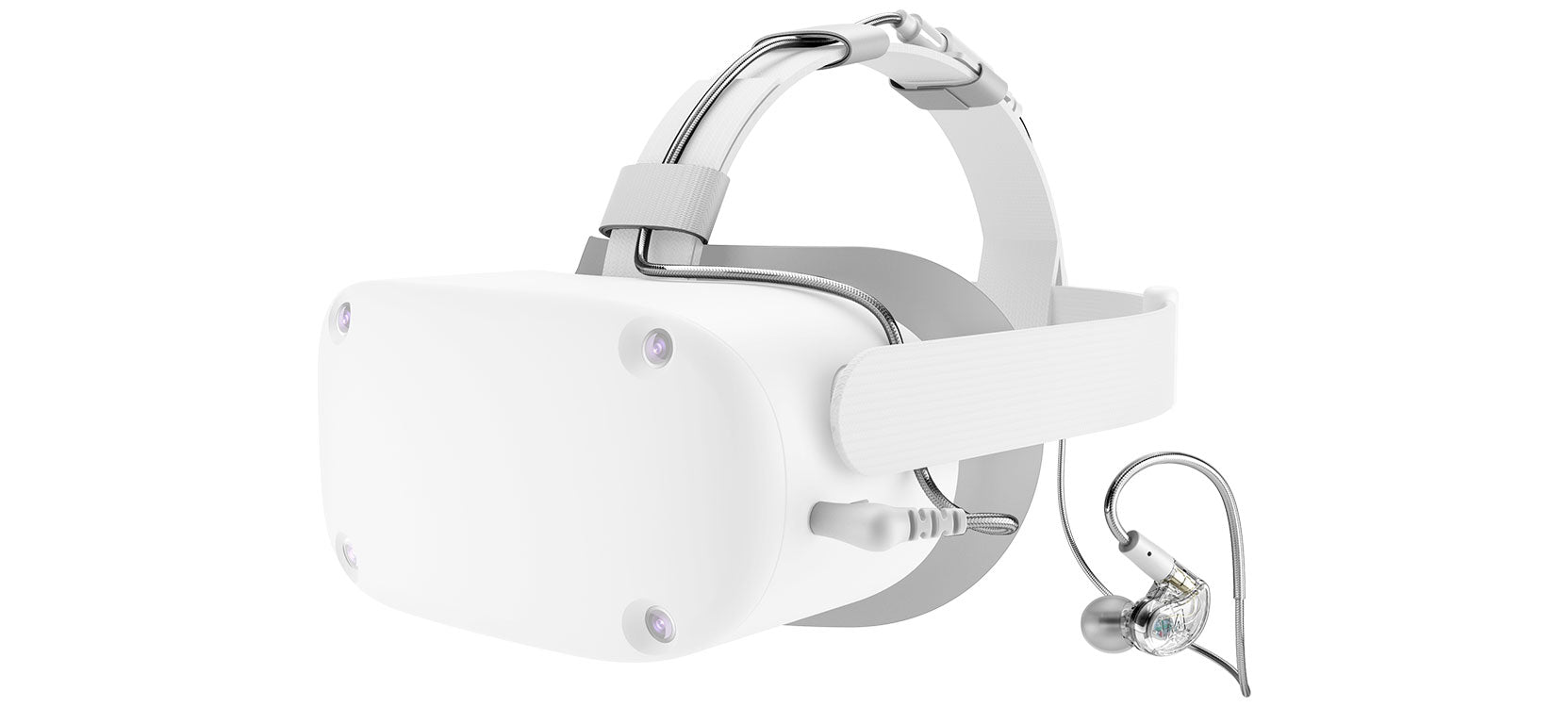 Designed for VR
Unique cable management system utilizes a specially-designed mounting bracket and Velcro straps to keep the cords out of your way and maintain VR immersion. The included extension lets you easily swap between the headphones and speakers without uninstalling the cable
Modular Cable System
Includes two detachable, interchangeable cables – a short cable optimized for use with VR headsets and a headset cable with built-in microphone and remote for PCs, consoles, and mobile devices
Compatibility
See the compatibility tab for additional compatibility information
Hear the Play
Drawing on our extensive experience with musicians' in-ear monitors, the M6 VR delivers rich, full-range sound tuned to ensure you don't miss a single detail
Personalized Fit
Ergonomic low-profile earpieces, moldable over-the-ear "memory wire" and 6 sets of eartips deliver hours of gaming comfort without the need to readjust your earphones
IPX5 Sweat Resistance
Engineered for real-world reliability, the M6 VR features a sweat-resistant design and replaceable cables
Noise-Isolating Design
The sealed in-ear design reduces outside noise for superior audio quality and reduced distractions
Optional Customization
Personalize yours ears with available custom-engraved faceplates. Choose from existing artwork options or upload your own design. Learn more at MEEaudio.com/Faceplates
What's in the box
M6 VR Earpieces (Pair)
Short Cable for VR headsets
Extension Cable for VR headsets
Silicone Cable Bracket with Velcro Strap
Velcro Cable Organizers
Headset Cable for 3.5mm-compatible devices
Protective Carrying Case
Silicone Eartips (6 Pairs)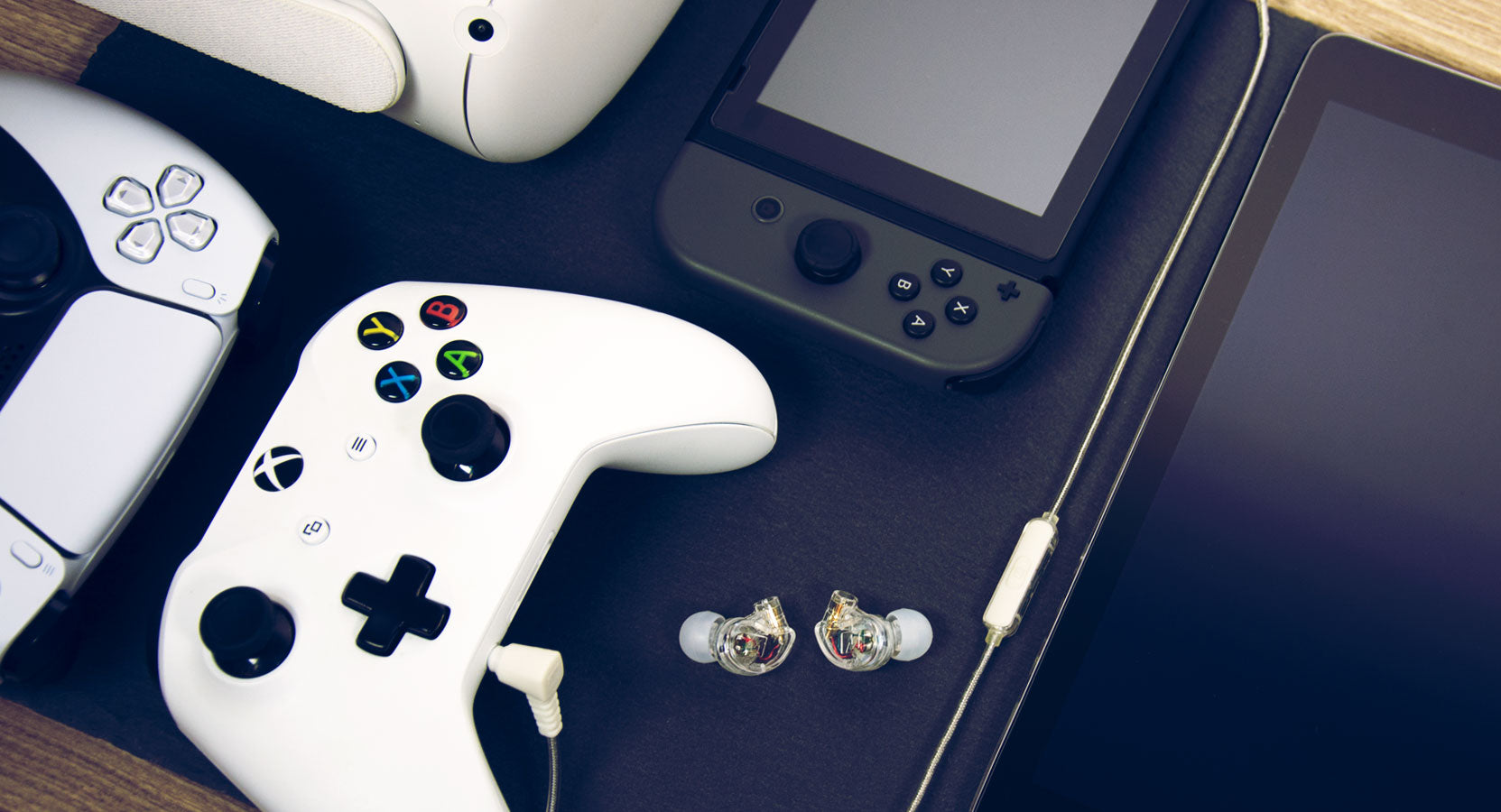 Compatibility

---

Short Cable + Extension for VR Headsets

Oculus Quest 1 / 2

Compatible

Valve Index

Compatible

Other VR headsets

Compatible as long as device has an accessible 3.5 mm headphone jack

---

Headset Cable with Microphone

PCs, laptops, and Macs

Compatible as long as device has 3.5 mm headset jack. If device has separate jacks for headphones and microphone, an adapter may be required for the microphone to work

Smartphones and tablets

Compatible as long as device has 3.5 mm headset jack or equivalent adapter

Xbox Series X, Xbox Series S, & Xbox One

Compatible with 3.5 mm jack on controller. If your controller does not have a 3.5mm jack (1st generation Xbox One controller), headset adapter is required

Xbox 360

Requires 3rd party headset adapter

Nintendo Switch™

Compatible with 3.5 mm jack on console while on the go (not docked)

PS5™, PS4™, & PS4™ Pro

Compatible with 3.5 mm jack on controller

PS Vita

Compatible with 3.5 mm jack on console

PS3™

Requires 3rd party headset adapter

Compatibility questions? Contact us.
---
Speaker Specifications
| | |
| --- | --- |
| driver type | moving coil (dynamic) |
| driver size | 9 mm |
| frequency response | 20 Hz to 20 kHz |
---
Microphone Specifications
| | |
| --- | --- |
| directivity | omnidirectional |
| frequency response | 100 Hz to 10 kHz |
| sensitivity | -42 dB ± 3 dB |
---
Product Details
| | |
| --- | --- |
| ear coupling | intraaural (in-ear) |
| water resistance rating | IPX5 |
---
Cable Specifications
| | |
| --- | --- |
| cable length (VR cable) | 15.5 inches (40 cm) + 12 inches (31 cm) extension |
| cable length | 51 inches (1.3 m) |
| cable connector | 3.5 mm, right angle plug |
---
Package contents
M6 VR Earpieces (Pair)
Short Cable for VR headsets
Extension Cable for VR headsets
Silicone Cable Bracket with Velcro Strap
Velcro Cable Organizers
Headset Cable for 3.5mm-compatible devices
Protective Carrying Case
Silicone Eartips (6 Pairs)
---
Warranty
This product is covered by a 1 year warranty. If you are not satisfied with your product, contact MEE audio to help resolve your issues.
---
M6 VR Product Manual
For information on troubleshooting, pairing, connecting, maintenance, and more please refer to the M6 VR user manual.

To view the manual in pdf format click here.
To save it to your computer, right click the link and select "Save Link As...".
M6 VR Setup Guide: How to Wear
Watch the video below to learn how to start using your M6 VR In-Ear Gaming Headphones.
---
Warranty
This product is covered by a 1 year warranty. If you are not satisfied with your product, contact MEE audio to help resolve your issues.
Write Review
VR earbuds that stay in

Posted by VR Mom

Using them for VR fitness programs. They stay in very well unlike other oculus buds. Take a bit of time to set up correctly but super worthwile.

transparent earbuds for video calls

Posted by Bob C

exactly what I was looking for! these are perfect for Zoom calls and other online meetings where I want to wear a headset with a mic and be discreet. Almost inivisible in my ears if I look at the camera straight on!

Short cable earbuds

Posted by duane

I wear these when I ride and they're great! The double ear tips work really well for noise reduction, I can hear the audio but also hear just enough street noise, sirens, and other important sounds from outside.

The wiring around the ears is excellent for putting on and taking off the helmet, as it prevents the buds from falling off or slipping down with the helmet.

Comes in a nice zippered case with two sets of cables. The earbuds themselves are removable so you can swap between the two cables. Also comes with many other ear tips to choose from.

It's an M6 with a short/detachable cord

Posted by 1000cc

Long-time user of Mee audio's M6 here - I got my first one probably 10 years ago for wearing under a bike helmet. Have been using them ever since. They are comfortable, fit well under my helmet, and the noise isolation is just at the point that I don't feel completely unsafe.

Once thing that I've wished for in the last couple of years is a shorter cable - I have a Bluetooth receiver mounted on my helmet now and don't need 5 feet of cord. I had been thinking of just cutting a cable and soldering on a plug, until I saw someone on a forum mention that they picked up this "oculus" version and it came with a short cord. Lo an behold, this is exactly what I've been waiting for - an M6 with a 20" or so cable! It even came with an extension in case your receiver is mounted further away, but still not far enough to use the full-length cable (which is also included!).

I really thing there is a missed opportunity here by not explicitly selling this as a made-for-helmets version of the M6. But if you don't know, now you know!

Have to watch a video to set up

Posted by Techie

I'm a reasonably technical person but... the way the cable mounts on the oculus seems overly complicated... I kind of understand why its like that but at the same time I should not have to watch a video to use a pair headphones... anyway definitely watch the setup video before you start messing with it it will save you alot of time... once setup it works well and u can hear everything clearly

Works with Steam Index

Posted by Denver

One of the very few VR headsets that has a plug long enough to reach the jack on the Index. Crazy that a $1000 headset does not support Bluetooth and requires you to buy a specially made set of wired earbuds, but at least they don't cost a fortune.

Great VR Headphones for the Money

Posted by A. Christopher

I have gone through a few sets of Quest 2 earbuds from Amazon. One of the sets kept falling out of my ears, the other kept getting its silicone buds stuck in my ears, and this is the third. The sound quality, comfort and design of this device are far superior to the other Quest earbuds I've tried. I wish I had gotten this right away. Nice box to give as a gift to any Oculus owner, very comfortable, great sound, overall really great product.

Improved my experience

Posted by RyGuy23

While the ultimate VR audio solution would be NOT having anything in your ears and having a surround sound system render audio as if you're in a 3D space, with the audio localization cues staying put as you move your head/body, for now it seems like earbuds are the next best thing because 1) they have an easier time making sounds "centered" in your head, unlike on-ear and especially off-ear headphones, and 2) they isolate outside noise for a little more immersion.

This isn't the cheapest set of VR earbuds, but it seems to be the most well thought-out in terms of routing the cable and keeping it out of the way. Sound quality is better than the default Oculus speakers, not sure if better than other similar earbuds. Definitely recommend watching the video on how to set these up beforehand - I would have figured it out eventually, but it saved me a bunch of time.