X10 Truly Wireless Sports Earphones
X10 Truly Wireless Sports Earphones
Truly wireless in-ear headphones deliver unparalleled freedom of movement with MEE signature sound. Features include IPX5 sweat resistance, compact and ergonomic earpiece design, and up to 23 hours of battery life with included charging case.

Truly wireless sports earphones
Experience unparalleled freedom of movement with 3rd generation truly wireless technology providing superior wireless range and stability in a more compact form factor than ever before

Easy setup and instantaneous reconnection
Smart wireless technology provides seamless operation, with earpieces that automatically power on and connect by the time they are in your ears
Rich and clear sound
Drawing on our decade of experience tuning in-ear headphones, the X10 utilizes 5mm HD microdrivers tuned for deep bass, warm mids, and crystal clear highs, making it our best-sounding wireless earphone yet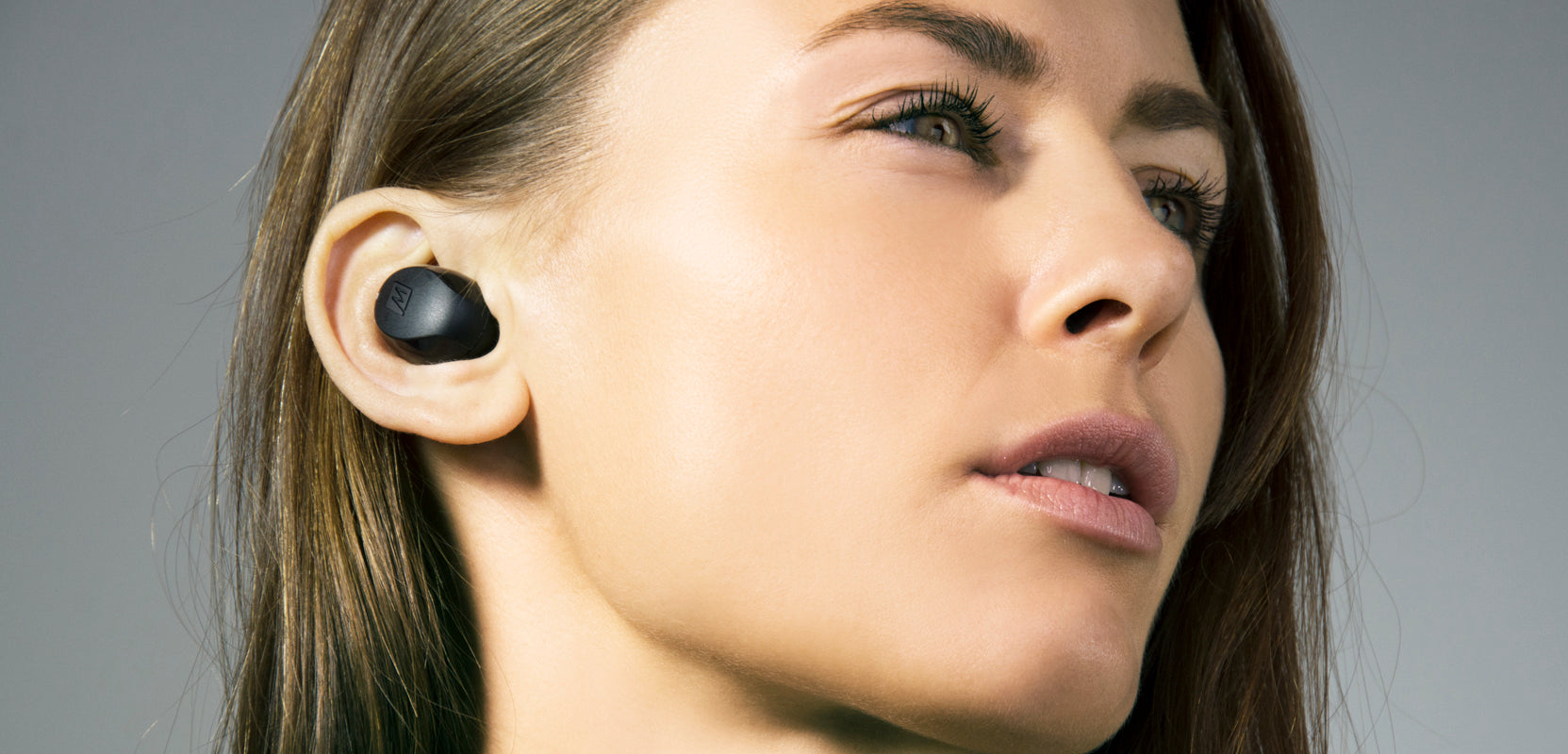 Sleek, ergonomic earpieces
Compact in-ear design, twist-to-fit earpieces, and 3 sizes of soft silicone eartips block outside noise and provide a locked-in fit with all-day comfort
IPX5 water-resistant design
IPX5 weatherproof and sweatproof design provides protection from sweat, moisture, and the elements
Up to 23 hours of battery life
Highly efficient Bluetooth 5.0 technology provides up to 4.5 hours of talk/music playback per charge, with an additional 18 hours stored in the charging case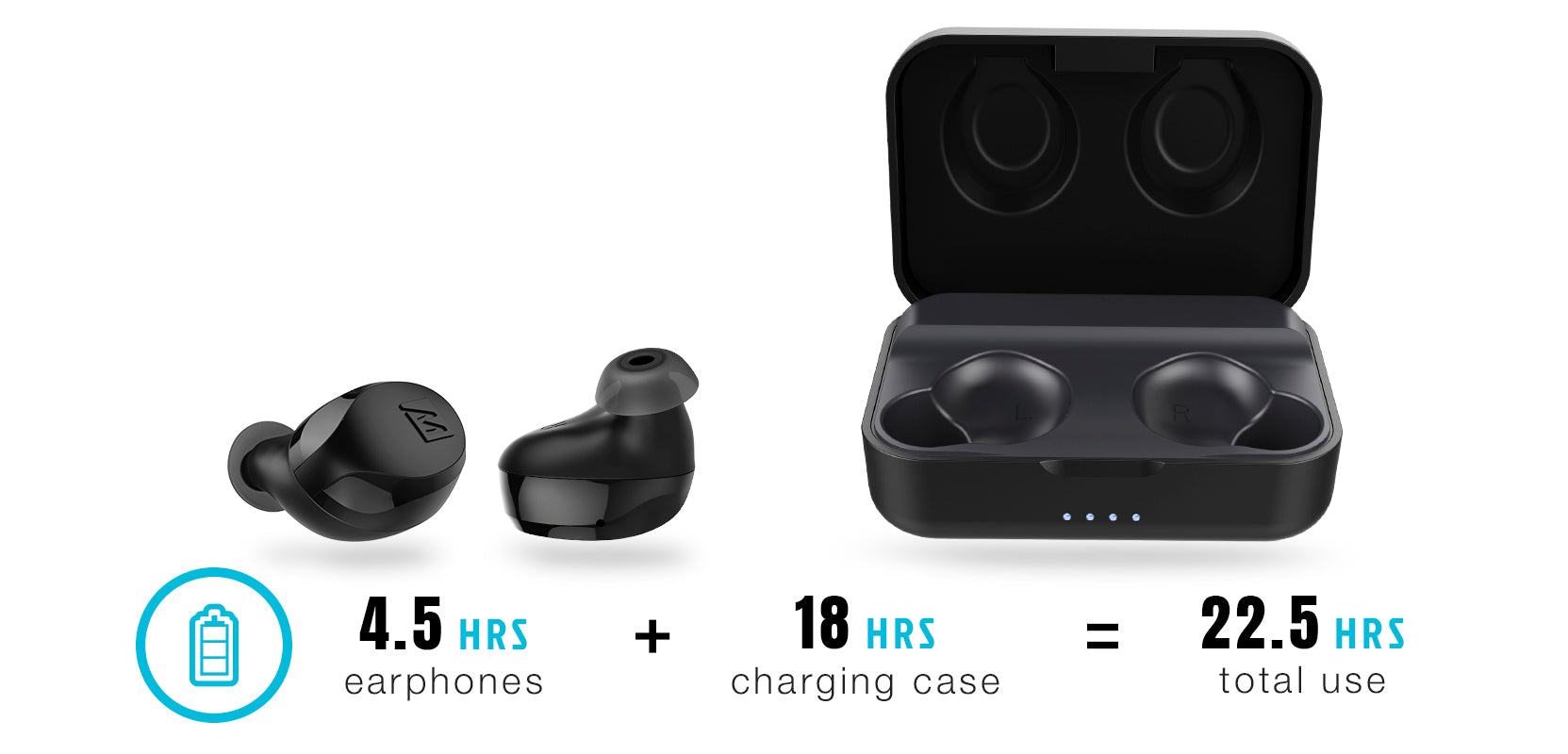 Intuitive controls
Easy-to-use controls for calls, media, and volume with 1-button access to Siri® and Google Assistant™
Built-in headset
Integrated microphone lets you seamlessly take phone calls. Right earpiece can also be used independently as a single-ear headset
Charging case included
Compact USB-C rechargeable carrying case with built-in battery indicator provides 4 additional charges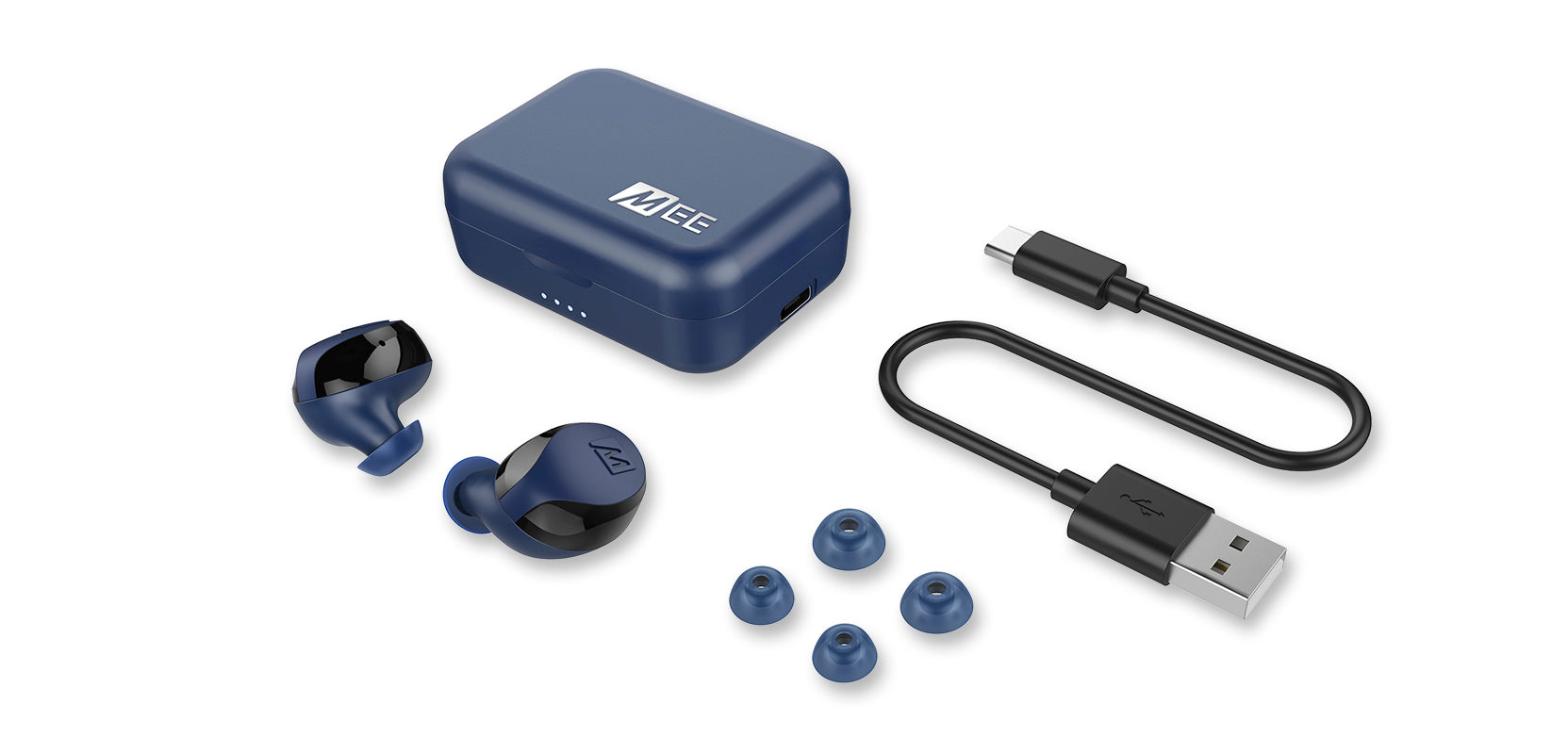 What's in the box
X10 Truly Wireless Bluetooth earphones
Charging case with built-in rechargeable battery
USB Type-C charging cable
3 pairs of eartips

---
Speaker Specifications
| | |
| --- | --- |
| driver size | 5 mm |
| frequency response | 20 Hz to 20 kHz |
---
Bluetooth Specifications
| | |
| --- | --- |
| Bluetooth version | 5.0 |
| operating range | 30 ft (10 m) |
| Bluetooth profiles supported | A2DP, HSP, HFP, AVRCP |
---
Battery Specifications
| | |
| --- | --- |
| battery type | built-in rechargeable batteries |
| battery capacity (earphones) | 100 mAh |
| battery capacity (charging case) | 450 mAh |
| talk/music playback time | 4.5 hours |
| charging time | 2 hours |
| carrying case charges | 4 additional charges |
| carrying case charging connector | USB-C |
---
Microphone Specifications
| | |
| --- | --- |
| directivity | omnidirectional |
| frequency response | 100 Hz to 10 kHz |
| sensitivity | -42dB± 3dB |
---
Product Details
| | |
| --- | --- |
| ear coupling | intraaural (in-ear) |
| water resistance | IPX5 |
| weight (earpieces only) | 0.3 oz (8 g) |
| weight (with carrying case) | 1.8 oz (51 g) |
| dimensions (carrying case) | 2.5x1.75x1 inches (6.4x4.5x2.6 cm) |
| included accessories | 3 sets of eartips, charging case, USB-C charging cable |
---
Warranty
This product is covered by a 1 year warranty. If you are not satisfied with your product, contact MEE audio to help resolve your issues.

---
X10 Product Manual
For information on troubleshooting, pairing, connecting, maintenance, and more please refer to the X10 user manual.

To view the manual in pdf format click here.
To save it to your computer, right click the link and select "Save Link As...".
---
X10 Setup Guide: Getting Started
Watch the video below, which demonstrates how easy it is to set up your X10.
---
X10 Factory Reset Guide
Watch the video below, which demonstrates how to factory reset your X10.
Write Review
Outdated (the good, the bad, and the ugly)

Posted by Tabarés

On my second pair of these but there will not be a third for me. I have had my first one since 2019 and I think these are just too old now for what they cost.

The good is that the control is a real, honest-to-god, hear-it-click button. That means you can easily use the controls without wondering "did that 2nd click register or no?". Also, in addition to the real button "click", these fit really well in my ears. I have smaller ears and a lot of other earbuds I've tried fall out or get uncomfortable after a while. I can wear these guys for hours.

The bad - unlike newer sets you can't use the left earpiece by itself, and sometimes it fails to connect to the right one.

The ugly - reliability is not great with these. In addition to the connection issue above, I've had to have one of the earpieces replaced under warranty twice, and I've also had to buy a new case after dropping mine. They take care of warranty issues quickly, but still this has stopped me from recommending these earbuds to people.

Don't know if I'll be able to find a set with a real physical button that's better/more reliable than these, but I am definitely going to try.

Secret feature

Posted by Jonah

I cant seem to find this in any booklet or online (not looking too hard) but if you click the right headphone 4 times in a row it opens the mic and you can hear outside of the headphones. You can also hear yourself talking so watch out. No this affects nothing on the review, but they are perfect for every day use. Their sound is great regardless of the fact they are true wireless buds and I love that they sit flush in my ear. I use them daily now at home where I was previously exclusively using the M7 Pros with the custom tips. I made the switch mostly because I am no longer commuting by transit which was how I would block everything out.

Overall it's a buy for sure. ★★★★★

Useful if you only have a right ear

Posted by Trevor

I'm pretty disappointed with this product... I purchased a pair back in Sept 2019 and I've been through multiple ear buds trying to get a set that would work in both ears. I had one set that worked in both ears for a few days, and then the left completely disconnected and I have not been able to reconnect since then. The right ear works well, good connection to the phone, good sound quality. MEEs technical support was pretty good until they stopped believing me that the headphones wouldn't work for me, I've tried it on two different galaxy S9s, but the two earbuds won't pair to themselves even without the phone, so not sure how that matters. Anyway, they're now expecting me to pay for shipping to fix my defective product or to return the defective product. I would highly recommend NOT purchasing these. Save yourself the headache and get something else.